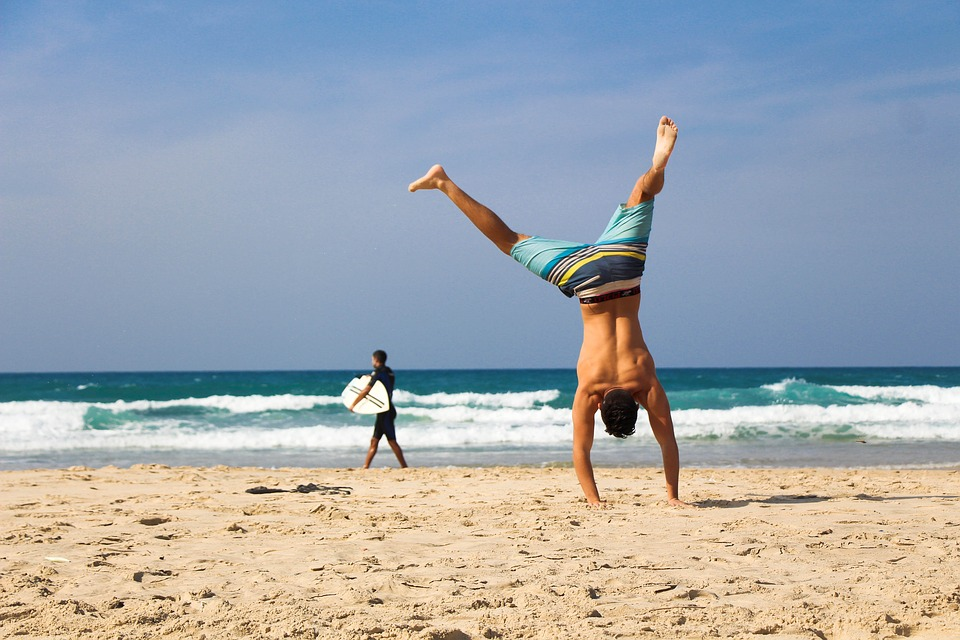 Are you ready to hit the beach this summer and show off the hard work you put into your body? Well, not so fast! If you really want to get in the best shape of your life, you have to make moves to improve your mind as well as your muscles. But how can you get a boost of mental and physical health so you can really enjoy the warmer months ahead? By using these simple health and wellness tips from Balanced Living, that's how!
Bring the Gym Home
It's never too early to begin working on your beach body. These days, however, getting outside for a run can still be a challenge. You could join a gym, but membership fees can be steep. Plus, many folks end up wasting the money they fork over for gym fees because they can't find time to go.
So how can you avoid this mistake yourself and still get fit in time for spring? Put the money you would spend on a gym into building a home gym instead. Use a spare room in your home (or even some space in your garage) to add a treadmill, some free weights, and other basic home fitness equipment that will keep you in top shape. If you need help figuring out how to use your new gear, try searching online for workout tutorials and instructions. These workouts give you a mental health boost in addition to improving your fitness.
Improve Your Smile
Instead of enjoying a good belly laugh now and then, do you hide behind your hand? Having less-than-perfectly straight teeth isn't unusual, but many people with misaligned teeth are uncomfortable about their appearance. What's more, brushing and flossing thoroughly can be more challenging when teeth are out of alignment. Rather than living with a smile you don't like and teeth that are hard to clean, research some of the many in-home treatment options like byte. Similar to traditional braces but more affordable and convenient, an at-home alignment could give you the gift of a healthy, beautiful smile.
Have Healthy Foods Delivered
Did you know that your diet also plays a role in your physical and emotional health? Of course, you already know that you need to eat a balanced diet to have a healthy body, but recent health studies show that clean eating can help improve your mental health, too. It's also been found that those who added more fruits and veggies to their diet had significant improvements in their emotional well-being.
You can get more veggies onto your plate by growing a garden or looking for creative recipes online. Packing your pasta with seasonal veggies or picking your own fresh foods are both great ways to get yourself in proper shape for spring and summer. If you want to have healthy foods on-hand, though, and make healthy eating much more feasible in colder months, you can also try meal kit delivery. Services from companies like HelloFresh, Thr1ve, and YouFoodz package all the fresh ingredients and recipes you need to eat well, plus you can customize your meals to fit just about any diet.
Team Up With a Wellness-Minded Friend
Even with a home gym and healthy meals delivered right to your door, it can still be a challenge to stay on track with your spring and summer fitness goals. A fun way to keep yourself motivated, and maybe even lose more weight, is to work on those wellness goals with a friend.
When you exercise with a friend or a group of people, you tend to push yourself a little harder. You're more likely to get through those last few reps or step on the treadmill altogether if you have a best mate or two cheering you on. At present, Balanced Living offers Qi Gong and yoga classes at no more than eight people per class, making it a safe way to practice with like-minded friends.

Another added wellness benefit of working out and getting healthy with other people: Healthy social connections are just as important as diet and exercise if you want to truly get in your best shape ever. They may be even more important for your mental health, so even if you do not work out with your friends, try to find other ways to stay connected. Plan a healthy spring brunch to celebrate the warmer weather or put together an outdoor adventure to put your new fitness skills to good use.
True fitness means taking care of all the different aspects of your health. So as you work on your summer body, be sure to use the tips above to manage your mental health for spring and summer too. You'll be thriving all year long! Ready to take your physical and mental health to the next level? Start with a Balanced Living consultation. Book one now!
Photo Credit: Pixabay; post provided by: Sheila Olson of fitsheila.com