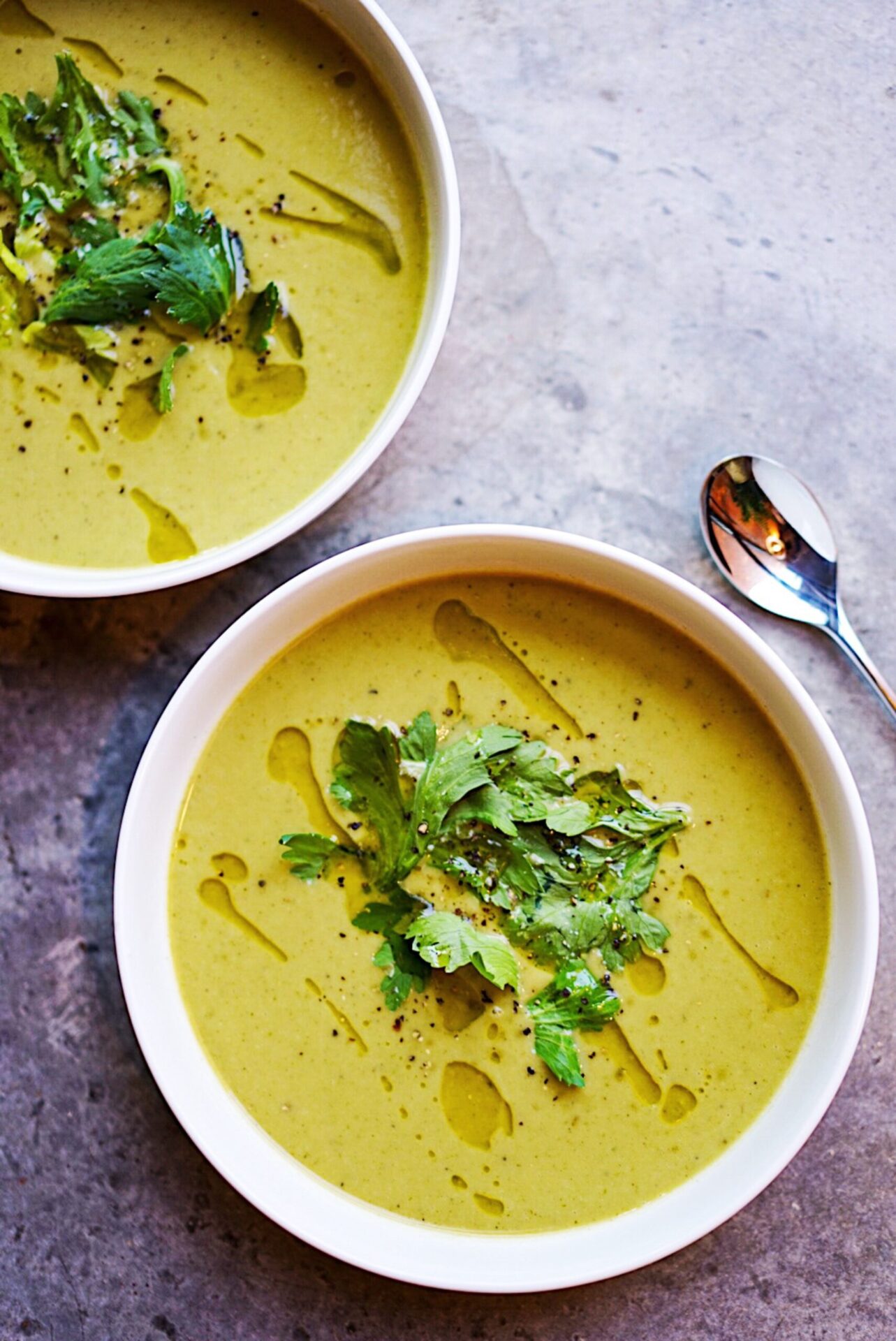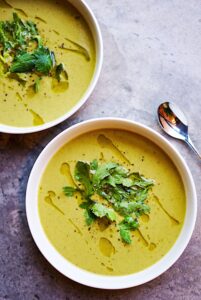 By Holly Padove/Balanced Living Ayurveda
A simple, delicious and healthy split pea soup recipe, balancing for all doshas, especially in the fall.
This is one of my favorite recipes, especially balancing for cooler fall days, which will be here soon enough!  This soup is balancing for all doshas, but can be a little heating for pitta during summer, or warmer days. Green peas are easily digestible and full of protein, and the recipe includes lots of healing spices.
Ingredients
2 cups split green peas
1 tablespoon chopped fresh ginger
1 or 2 garlic cloves, minced
1 Tablespoon Ghee or another type of oil (can be avocado oil)
½ onion (optional)
5 C Water (This can be water or veggie broth, or a combo)
1 Can light coconut milk
½ Lemon
Spices*:
1 teaspoon Cumin powder
1 teaspoon Coriander powder
1 teaspoon turmeric powder
Salt to taste (after cooked). Try adding ½ teaspoon before you serve – adjust as necessary
Cilantro
*You can also add a spice called Garam Masala or use it to replace the other spices. I also you use a spice blend called Tandoori Moroccan spice, which is also delicious, and can replace the others as well. (About a tablespoon of either blend.)
Directions:
Turn the pressure cooker on sauté and sauté the spices in ghee for a few minutes, including the fresh ginger and onion. Or sauté in a large pot
Now add the peas and coat them with the spices as well
Add the water/broth and turn the pressure cooker on to "High Pressure" for 14 minutes. Or if you are cooking in a regular pot, bring the water to boil, then cover and simmer for 30 minutes.
If you are using a pressure cooker, once it beeps just let it release "naturally," i.e. don't do anything. In about another 10 minutes, you'll be able to remove the lid
After 30 minutes, or when the pressure on the pressure cooker releases, add the entire can of coconut milk. If the soup seems too thick, add more water until you reach the desired consistency.
Adjust your spices and add salt…. Everything to taste.
You may want to squeeze ½ lemon into the soup, and add some cilantro!
FYI, sometimes I add cauliflower, carrot or fennel when cooking, although they completely blend into the soup when using the pressure cooker. If you are using a regular pot, then add them once you bring the temperature to simmer.
Serve with fresh sourdough toast or Ezekiel Bread toast to make a delicious meal!