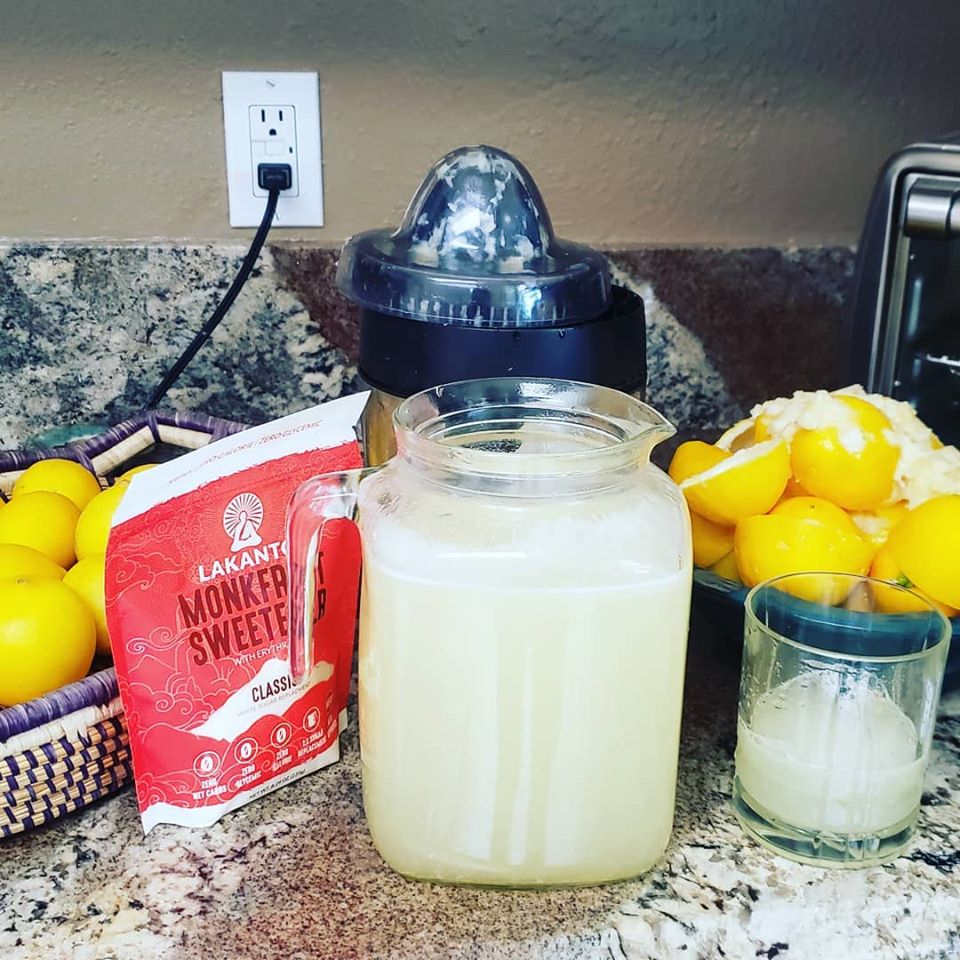 During this time of "shelter in place," I find myself cooking more – it's comforting to me and I have a little more time to explore my creativity in the kitchen. With that in mind, the other day I noticed our Meyer lemon tree laden with beautiful ripe lemons, way too many to simply squeeze over my latest culinary experiment. Plus probably not a good idea to be giving them away right now. It's been hot here in California, perfect weather for some lemonade!
I'm not a fan of sugar, however I do love the sweet taste, so you'll notice in the photo that I used monk fruit sweetener, combined with liquid stevia from Trader Joes's ( not pictured.) Monk fruit sweetener is natural, low glycemic and no calories. Ayurvedically lemons rehydrate our bodies and stimulate better digestion as well as other benefits.
Lemonade Recipe
Here is a simple Lemonade recipe to make your own, 'cause when life gives you lemons, make lemonade! (I doubled mine by the way, to make the full pitcher shown above)
1 Cup of lemon juice from fresh squeezed lemons (lots of lemons)
6 Cups of water (or to taste)
1/2 Cup of Monk Fruit Sugar (now available at many stores)
1 or 2 full droppers of liquid stevia extract.
AS far as sweetness, goes, experiment with the above until you reach the sweetness level that works for you. I find that stevia has too strong of a taste when used alone, but when combined with monk fruit sweetener, it's an ideal blend. You could just use monk fruit sweetener, however, it is a little pricey.
Mix well and enjoy!!!