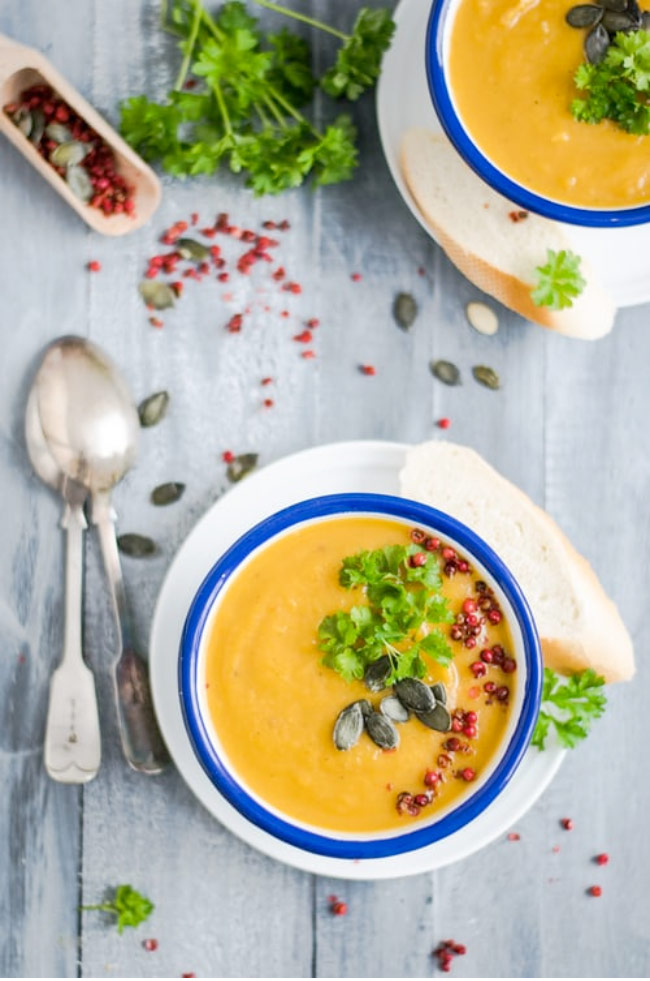 I just made a delicious pumpkin soup the other night from a pumpkin straight from my garden – a balancing fall soup, and how much fresher can it get! Fall is the time to start transitioning from salads to soups in order to keep your "vata" balanced. I'm becoming famous for my soups, and here's the recipe, although I improvise greatly, so please feel free to do so yourself, especially when it comes to spicing. You can also substitute an acorn squash instead of a pumpkin. Also super tasty.
4 – 6 cups fresh cubed pumpkin
1 tablespoon fresh chopped ginger (more if you like ginger)
1 or 2 garlic cloves (more if you like garlic)
1/2 chopped medium onion
4 cups veggie or chicken broth
1 can coconut milk
1 tablespoon curry powder or use a combination of turmeric/coriander/cumin to taste
1/2 teaspoon sea salt (or more to taste)
1 tablespoon ghee
Sauté the onions, garlic, ginger and spices in ghee (substitute butter or coconut oil if you prefer) until onions are translucent. Add the pumpkin and the broth and bring to a boil; turn down to simmer and cook until the pumpkin is soft, about 20-30 minutes. (FYI, a pressure cooker is A LOT quicker – like 5 minutes!)
Next use a hand immersion blender (a handy tool for blending soups this fall and winter) to blend the pumpkin. If you don't have one, just place the pumpkin/onion/etc. in the blender and puree. Next, place back in your pot with the remainder of the liquid already in the pot, and stir. Continue to stir, while adding the coconut milk until the soup reaches the desired consistency. Heat back up to a simmer and let cook for a few more minutes so that the tastes can blend together. Add the salt, and taste to see if you need to add more spices.
ENJOY! And remember, you can save the pumpkins seeds and toast them for a healthy and tasty snack!